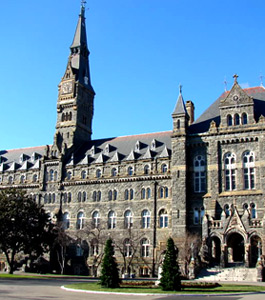 Imhoff Company was founded in 1960 when David T. Imhoff, Sr. began repairing church steeples. Church steeple repairs are complicated because steeples are affected by weather on all sides and they're at the highest point of the structure. Needless to say, if you can repair a steeple, you can repair any part of the building. As David learned more about the building materials and intricate architecture that are so unique to religious structures, Imhoff Company evolved from repairing church steeples to restoring entire buildings.
When David's son, Scott, asked if he could get involved in the family business, David handed Scott a broom and sent a clear message. Because the process of restoring religious properties is so specialized, Scott quickly realized that he would have to learn the business from the ground up. This dedication and attention to detail has helped make Imhoff Company a pioneer and a respected leader in the industry.
After completing hundreds of restoration projects, Imhoff Company, now under Scott Imhoff's leadership, is a treasure chest of knowledge about the proper way to restore and preserve religious properties. This expertise continues to shine through in every new project as more and more architectural masterpieces are revitalized and renewed.
Imhoff Company has the utmost respect for more than the architecture and splendor of religious buildings. We respect and share the unwavering faith and commitment that represent the true foundation of any place of worship. This prayer embodies the essence of Imhoff Company.
Gracious God, as your disciples, we have built holy places through which your presence can always be met, known, worshiped and served. We give you thanks that there are houses of worship in which the Divine and human can consciously come together. Grant that we whose lives are enriched by these church structures may so care for them that holy structures are available to your people in every generation. Enable us to transform them into effective instruments of your will. Amen.