Custom Access for Painting
We use patented "boom" technology that allow us to access hard-to-reach areas for painting without the use of scaffolding in most cases.  The boom can pass through an opening that's only 40 inches wide, takes only five minutes to set up or take down, and offers great versatility and maneuverability, making it easier to paint the interior of a religious property with no disruption.  Because it can be operated by as few as two people, using a boom instead of scaffolding will significantly reduce the cost of a project.

Plaster
Our expert craftsmen used old world techniques, the same techniques used when many older religious structures were built, to replicate simple flat plaster, architectural moldings, vaulted ceilings and a wide range of finishes on plaster, from smooth to adobe.
Wood Ceilings
We can restore the original natural beauty of any type of wood surface, including the ceiling, in your religious property by cleaning, repairing or refinishing the wood.  This may involve oil finishes or urethane, depending on the type of wood and where the wood is located.
Lighting
Many old churches have poor lighting because nothing better was available when the structure was originally built.  We offer electrical services to refurbish upgrade or replace lighting systems to fit your religious property's design and architecture while addressing its functional lighting needs.
Artwork, Murals & Frescos
Our skillfully trained artists can repair existing artwork, murals and frescos, restoring them to their original beauty.  This often involves a very meticulous, delicate process, like removing improper coatings applied by previous painters who may not have been educated in art restoration, or removing varnish with harsh strippers, inch by inch, to prevent the damage of an underlying oil painting.   We can also compose brand new artwork, based on your parish's specifications, or custom design artwork to fit your church's design and architecture.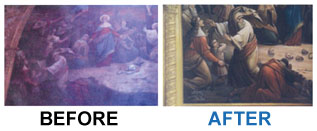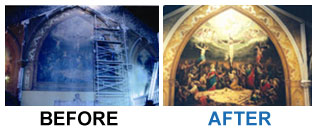 Interior Painting & Design
We can paint any part of the interior of your religious building or place of worship, incorporating any design element, including faux finishes, gilding, stencil work and all appointments associated with religious architecture.
Liturgical Design
We can replicate the existing color scheme and liturgical design in your worship space, or provide liturgical design services, including interior design and redecorating.
Interior Stone Refinishing
We can restore your religious property's natural stone to its original beauty through interior stone refinishing and cleaning, which removes years of candle soot and other types of dirt and residue.